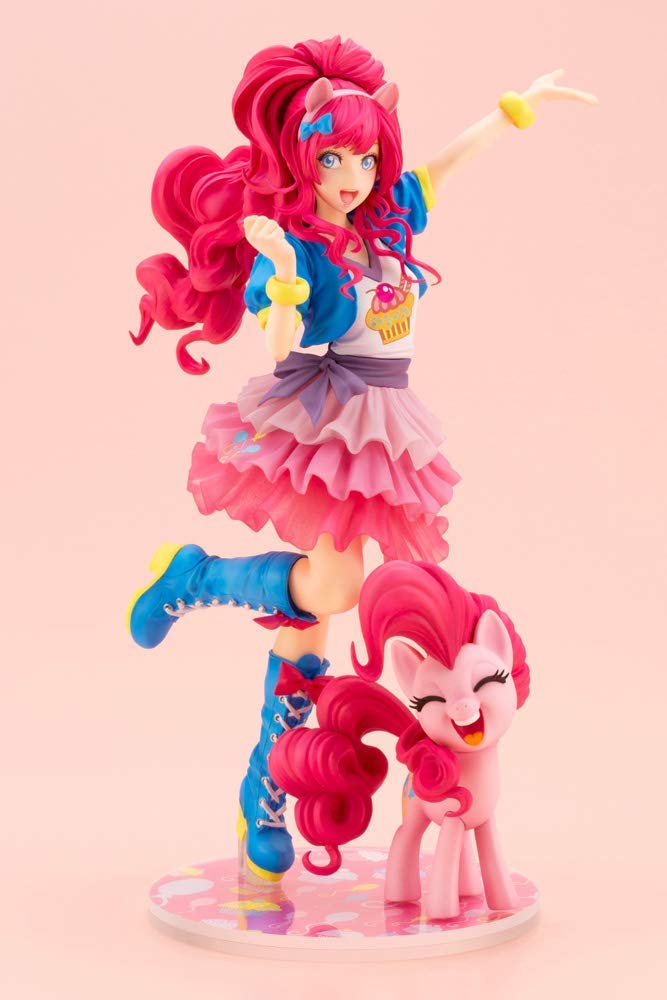 The My Little Pony Pinkie Pie bishoujo statue is now available for pre-order.
Kotobukiya and Hasbro present the first fantastic figurine in the My Little Pony bishoujo series. The Pinkie Pie bishoujo statue is based on the Equestria Girls version of the favorite character. In these animated adventures, Pinkie Pie is in human form, and she has a very bouncy and carefree spirit. She loves to go to parties and have lots of fun. She is also the energetic drummer in the band featured in the stories.
The My Little Pony Pinkie Pie statue is a very colorful addition to any collector's shelf. Her hot pink hair flows around her happy face. Her eyes gleam with welcome and joy and her smile shines across her face, ready for good times! Her striking blue jacket and matching boost are in wonderful contrast to her pink attire. The frilly skirt shows layers of a slight color gradient, leading the eye to the cupcake insignia that emblazons her t-shirt. Pinkie Pie's overall pose is one of energy and joy, as she urges you to let loose and has some fun! At the colorful balloon and cupcake base stands the pony version of Pinkie Pie, also full cheerful emotion with her eyes squeezed tight due to a merry smile.
The My Little Pony Pinkie Pie bishoujo statue is designed by Shunya Yamashita and stands approximately 8 1/2 inches high. This colorful piece is the first in a series that will also include the Twilight Sprinkle and Fluttershy My Little Pony characters. This beautiful statue is due to be released in June 2018. Begin or add to your My Little Pony collection with this fun figurine that will bring sparkle and happiness to your room!
Add the My Little Pony Pinkie Pie bishoujo statue to your collection today!