Here is some of the latest bishoujo news from this past week:
Batwoman Second Edition Bishoujo Statue Announced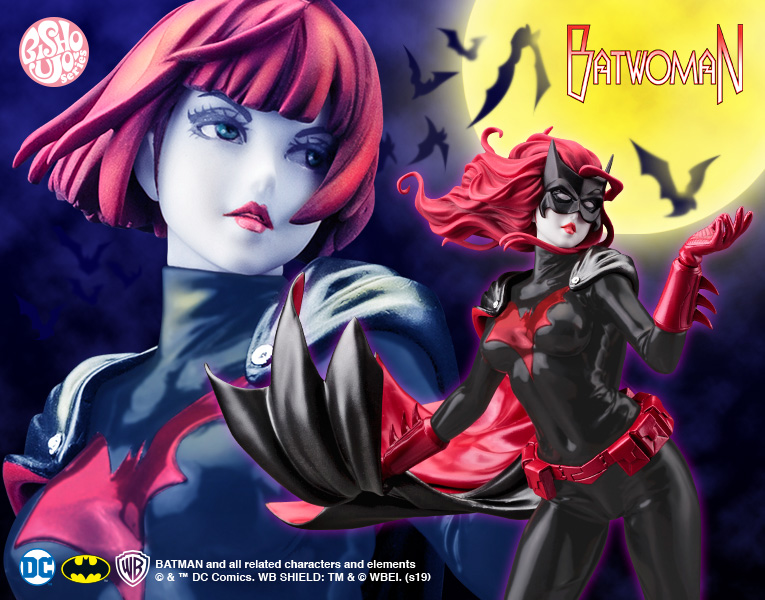 The second edition of the Batwoman bishoujo statue from DC Comics and Kotobukiya is available to order from the Kotobukiya Japan website. It is due to ship in January 2020
This statue is being released just as the new Batwoman TV series is premiering on the CW network. Portrayed by actress Ruby Rose, the show will feature the live-action adventures of Batwoman, and this second edition release of the character's bishoujo statue is a perfect acknowledgement of this exciting new series!
The new statue edition features a metallic paint sheen on the costume, and also a paler complexion on the character to match her look in many of the comic books.
Here are more photos of this new upcoming release:
Listings for pre-orders of the Batwoman 2nd Edition bishoujo statue are also beginning to show up on eBay!
eBay links on this page are affiliate links. Thank you for your support!
---
Bootlegs: Buyer Beware!
Bootleg statues have been a problem among the bishoujo community for some time. While most sellers are listing true bishoujo statue products, some are selling bootleg knock-offs of these statues.
The Kotobukiya Bishoujo Collectors website has a great article on this issue, and we refer you to that post here.
While we link to eBay listings of bishoujo statues, please watch for unusually low prices on an item, make sure the packaging has the Kotobukiya logo, and compare the listing's photos with official product photos to make sure you're purchasing true Kotobukiya product!
---
Video of the Week
Kira, el Jugador Silencioso presents an unboxing of the My Little Pony Pinkie Pie bishoujo statue!
---
---
Check Out This Article
Featured Pages