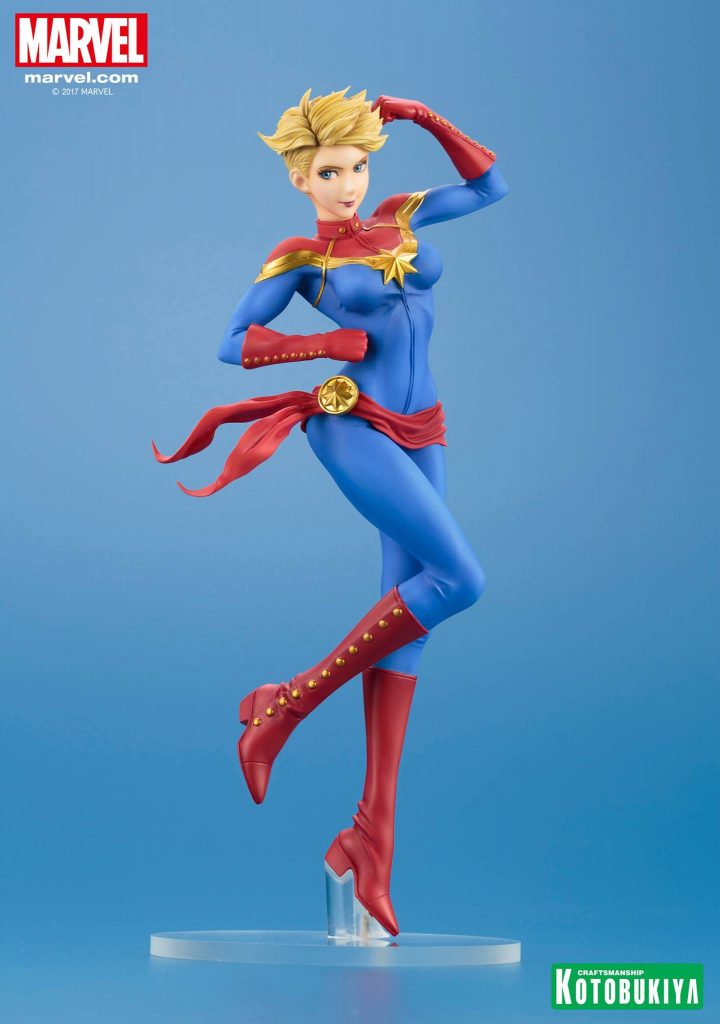 Captain Marvel Bishoujo Statue
This Captain Marvel Statue Is the perfect addition to any superhero collection. The statue depicts Carol Danvers in her new incarnation as the latest Captain Marvel. This introduces a new era for a classic character, and for the Marvel universe. Commemorate this event by adding this gorgeous figure to your collection.
Carol Danvers began her superhero career as Ms. Marvel, first appearing in Marvel Super-Heroes #13 (March 1968). She is well known as one of the most high-profile women in Marvel comics. After decades as an Avenger, she has taken on the mantle of Captain Marvel, after the death of the original Captain Marvel. She currently headlines the Captain Marvel comic as a major player in the Marvel Universe.
This figure displays Carol Danvers in her new costume. She sports new red and blue patriotic colors, a contrast to her former black and yellow Ms. Marvel outfit. She is shown posing with one hand on hip, and a fist held in a salute. Her short blonde hair gives a military impression. Her body has been crafted in careful proportions. Her expression has her giving a side-eyed look, bringing some mischief to her imposing appearance.
The statue is styled after an illustration by Shunya Yamashita done in the bishoujo style. Yamashita is famed for his character designs in video games such as 'Final Fantasy X'. His art focuses on stylizing beautiful women, particularly in fantasy settings. The sculpt for this statue is by Hogari.
The product comes in a sealed box. The figure is built on a 1:7 scale, measuring 9" in height. The statue is mounted on a clear stand for easy display. It is perfect for collecting or for display. High quality and attractive, it can make the centerpiece of your collection.
Release Date: August 2018
Captain Marvel Bishoujo Statue Photo Gallery
Related Bishoujo Statues