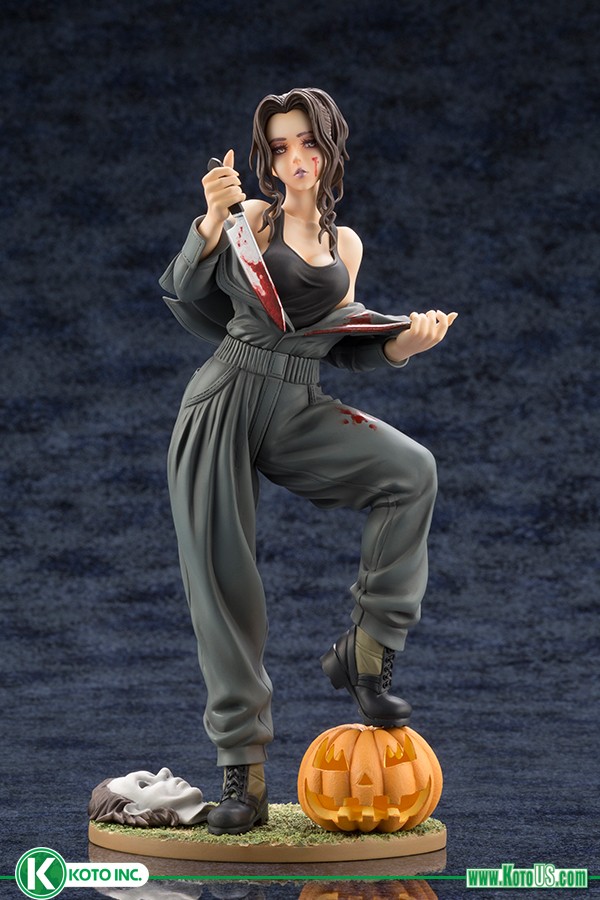 Kotobukiya has transformed a handful of dreaded horror characters into horrifically beautiful bishoujo statues. Joining the murderer's row of horror icons such as Freddy Krueger, Jason Voorhees, Chucky, Pinhead, Ash Williams is Michael Myers, the deadly killer from the Halloween films.
Slashing into our lives this Halloween is this female version of Michael Myers designed by talented illustrator Shunya Yamashita and sculpted by Takahashi Masahiro. This Michael Myers Bishoujo statue is available for pre-order.
This macabre bishuojo character is based on the villainous character of Michael Myers from John Carpenter's movie titled Halloween (1978). In the original Halloween film Michael Myers is portrayed as a young lad who murders his older sister; after which he is taken into a sanitarium where he spends 15 years before escaping. He then returns to his hometown and engages in a murdering spree of babysitting teenagers.
In the Halloween series of films, Michael Myers is portrayed as a notorious character who strikes fear in the hearts of his characters on Halloween. Indeed he is the embodiment of pure, bottomless darkness and a grotesque force devoid of the ability to discern between good and evil. He has appeared in nine films, several comic books, novels, and video games.
When you first set your eyes upon the statue, you cannot help but see it for what it is; a thing of beauty that is horrific at the same time. A beautiful lady with the most disdainful and evil expression stands with one foot atop a grinning jack-o-lantern, holding a bloodstained butcher's knife and trying to wiggle out of a blood-splattered blue overalls says it all. The simplistic design of the mechanic's overalls also helps to bring out details of the Bishoujo's amazing sculpt. The statue is made out of both ABS and PVC material and stands at an awesome height of 9.25 inches.
Pre-order the Halloween Michael Myers bishoujo statue today!