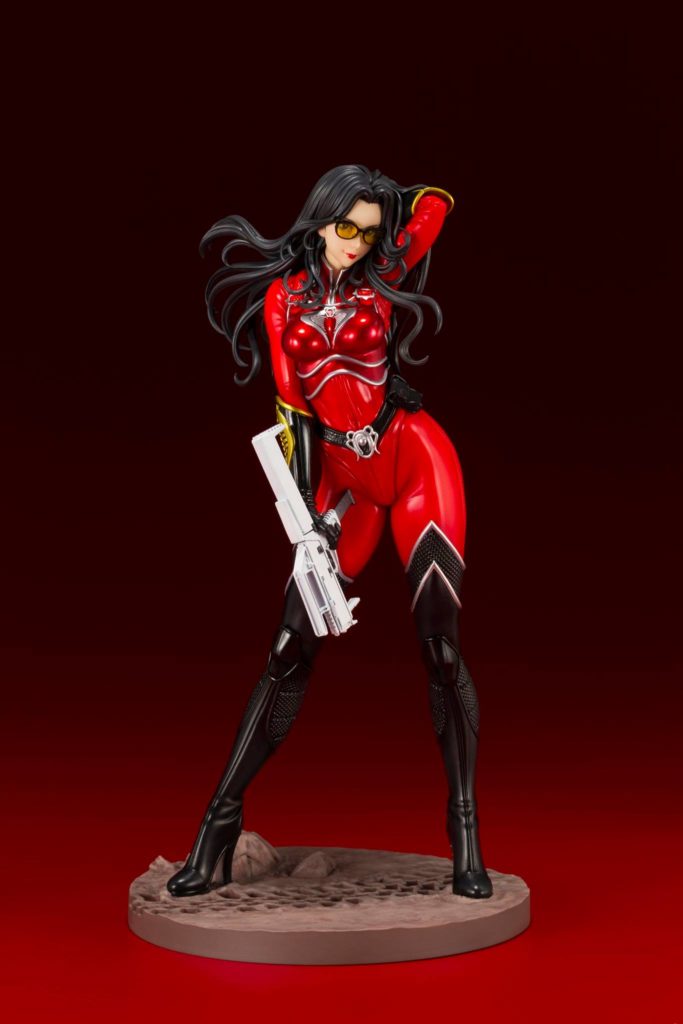 G.I. Joe Baroness Crimson Strike Team Bishoujo Statue
Kotobukiya is introducing an exclusive limited-edition statue of Cobra agent Baroness to join the G.I. Joe Crimson Strike Team Bishoujo line. The design of this special limited edition statue is based on the 2002 original figure from the relaunch of the _Real American Hero_ line by Hasbro.
The concept of G.I. Joe was created by Hasbro as the story of a team of brave American military heroes who fight against their nemesis, the cruel terrorist organization known as Cobra. Baroness was first introduced as a villain in league with Cobra in 1982, appearing in the first issue of comic book series _G.I. Joe: A Real American Hero #1_. She was debuted as an action figure in 1984. The ruthless femme fatale was a featured villain in the G.I. Joe action figure line, comic books, and was the first character to transfer over to the animated series.
In her origin story, the Cobra agent was born to wealthy parents in Europe under the name Anastasia Cisarovna and was quite spoiled growing up. She got her villainous start with student radicalism mainly speaking out against America. She eventually works up to international terrorism with Cobra. She was trained as a spy and saboteur at an exclusive facility and in time Baroness serves as head of intelligence operations for Cobra and as a lieutenant to Cobra Commander. She also has a romantic affection for Destro, another member of the ruling Cobra Triumvirate, but her loyalty is only for herself; she does not hesitate to play Cobra Commander and Destro against each other for her own gain. As a character, she is known for being ruthless, interesting, complicated, and full of contradictions.
Physically the character of Baroness is usually portrayed as very beautiful and sensual with long dark hair and glasses and the original character was shown in a black leather bodysuit. She is highly intelligent and is an expert in psychological warfare, cryptography, and bio-chemical attack and is proficient in a variety of weapons, including automatic guns, and is a qualified operator of tanks, helicopters, and other aircraft. Throughout the years and into the modern era, she continues to be a fan favorite villainess and is still prominently featured in comic books, action figure lines, animated series, and live-action movies.
This exclusive Bishoujo statue of Baroness stands 9″ tall and features a dark red bodysuit with black and metallic accents in keeping with the "Crimson Strike Team" theme. Her distinctive long black hair and glasses compliment her exclusive sleek design. She is also holding an all-new machine gun in her right hand. Attention to detail and character is obvious in this high-quality digitally sculpted statue. This is not just a color variant; it is a completely new look.
This stunning exclusive Bishoujo collectible is made possible based on the original concept art of talented artist Shunya Yamashita and brought to life by skilled sculptor Takaboku Busujima. Estimated to be available in August 2020 with only 1400 statues made.
Release Date: August 2020
G.I. Joe Baroness Crimson Strike Team Bishoujo Statue Image Gallery
---
Related Bishoujo Statues