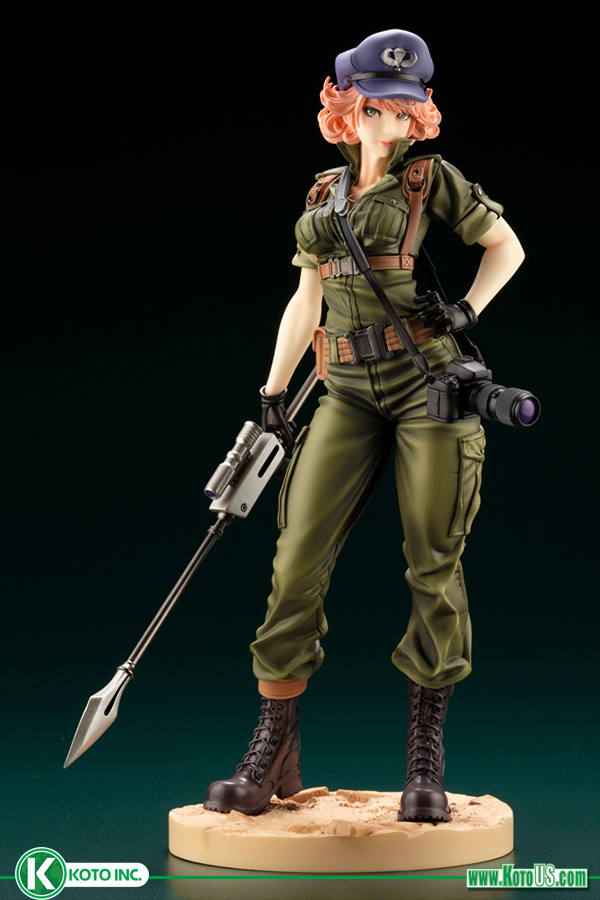 About the G.I. Joe Lady Jaye Bishoujo Statue
Kotobukiya brings us yet another exemplary statue with their rendition of G.I. Joe Lady Jaye bishoujo statue bfrom the medium-spanning franchise, GI Joe.
Born Alison R. Hart-Burnett, the counterintelligence personnel known as Lady Jaye has been a part of the well-established franchise since 1984's animated series. Since then, she's been included in various action figure lines, comic books, and various other facets of the GI Joe universe. Though often changed to fit whichever setting she's in, a few traits maintain their continuity. Some examples would be her knack espionage and disguises, her multilingual nature, and her proficiency with multiple types of small arms such as the M16 rifle and M1911A1 handgun. Now you can find her in the upcoming Amazon Prime series meant to cover her escapades.
The premium-quality statuette sits at 1/7th scale, and is constructed of a PVC material. Its depiction of the G.I. Joe Lady Jaye bishoujo statue is strongly influenced by an anime style, though it suits the character and is executed extraordinarily well. The shading is subtle, but apparent, allowing the sculpture to function well as its own piece without any need for specific lighting to accentuate it. Her outfit's basis is a short-sleeved combat jacket with matching pants, both in olive green, with a pair of black combat boots and a brown tactical harness. She also wears a navy blue officer's cap and a pair of gloves. The statue is fair-skinned, with pink highlights applied to really flesh out the face and strengthen the feminine features common in the Bishoujo genre. The hair, expertly sculpted beneath the aforementioned cap, is a messy, curly pink bob with a lot of subtle detail in the shaping of each individual strand. The hair sculpt serves as a frame for her face, which allows her side-angled green eyes to really speak for themselves. Every individual texture, from the softness of her skin to the harsh fibers of her belt, are all on full display due to the expert craftsmanship and modeling done to bring this piece together. As for her accessories, she holds a scoped harpoon gun with a unique appearance, a pair of dog tags cascade from her neck past the strap of the camera strung over her hip.
Takaboku Busujima of BUSUJIMAX is to thank for the precision and technique shown off expertly by the sculpture. Kotobukiya, the company selling the product, is known for its wide array of PVC statuettes from series spanning from Star Wars to DC Comics. Their premium-quality products and reputation in the industry. This particular sculpture has been on the market since June of 2020, so it is currently available for purchase online! The original creators of this character are none other than Hasbro, a behemoth in the global toy industry with a wide-spanning history and their own unique touch to creating toys that anyone can enjoy.
This premium-grade Bishoujo PVC statuette is top of the line in its market and a genuine must-buy for fans of G.I. Joe.
Release Date: April 2020
---
G.I. Joe Lady Jaye Bishoujo Photo Gallery
---
Related Statues