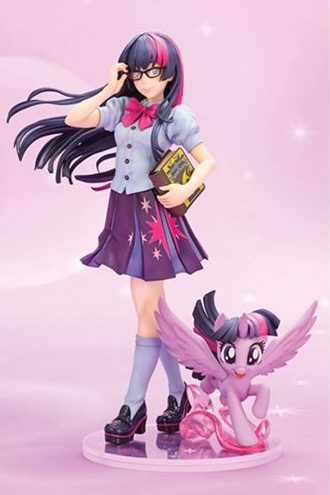 Presenting a new entry in the popular series
The My Little Pony Twilight Sparkle bishoujo statue is available from Hasbro and Kotobukiya.
Twilight Sparkle is presented in her human form based on her appearance in My Little Pony: Equestria Girls. This magical character is a student at Canterlot High School and is very intelligent – considered by some to be a bookworm! However, she can also have fun as the lead singer in the Rainbooms band. Twilight's character has magical skills, actually being able to travel back and forth from the Pony world incarnations of the characters to the human world of Equestria Girls. A princess in the pony world, Twilight uses her skills of charm, magic, and intelligence to help all of her friends become the best versions of themselves!
Twilight Sparkle's personality definitely shines through in this beautiful statue. She seems to be stepping onto the Canterlot campus as she adjusts her eyeglasses with one hand. Her hair has the color tones of the classic Twilight Sparkle character, which is carried over in her wardrobe. A slight grin appears on her face, and it seems to be framed by the hot pink bow tied around the collar of her shirt. The extreme detail of this figurine can be seen in the pink detailing of the buttons on her shirt. Twilight Sparkle carries one of her favorite books, "The Elements of Harmony", under her arm as she walks. Her skirt is emblazoned with her signature sparkle design. The blue knee socks complete her school uniform, leading to the detailed shoes she wears complete with small pink buckles. Besides the human form, Twilight Sparkle is her pony incarnation, her mane duplicating the look of her Equestrian Girl version. The enthusiastic pony with its unicorn horn is the perfect finish to a wonderful statue design on a sparkle design base.
This figurine is designed by Shunya Yamashita. At 1/7 scale, Twilight Sparkle stands 8.46 inches high.
Available August 2019
Other statues in this series include Pinkie Pie, Fluttershy, and Rarity
My Little Pony Twilight Sparkle Image Gallery
Related Bishoujo Statues