Here are some of the upcoming bishoujo statue releases from Kotobukiya. Each of these statues will be released in 2020 and are now available for pre-order.
My Little Pony Rarity Bishoujo Statue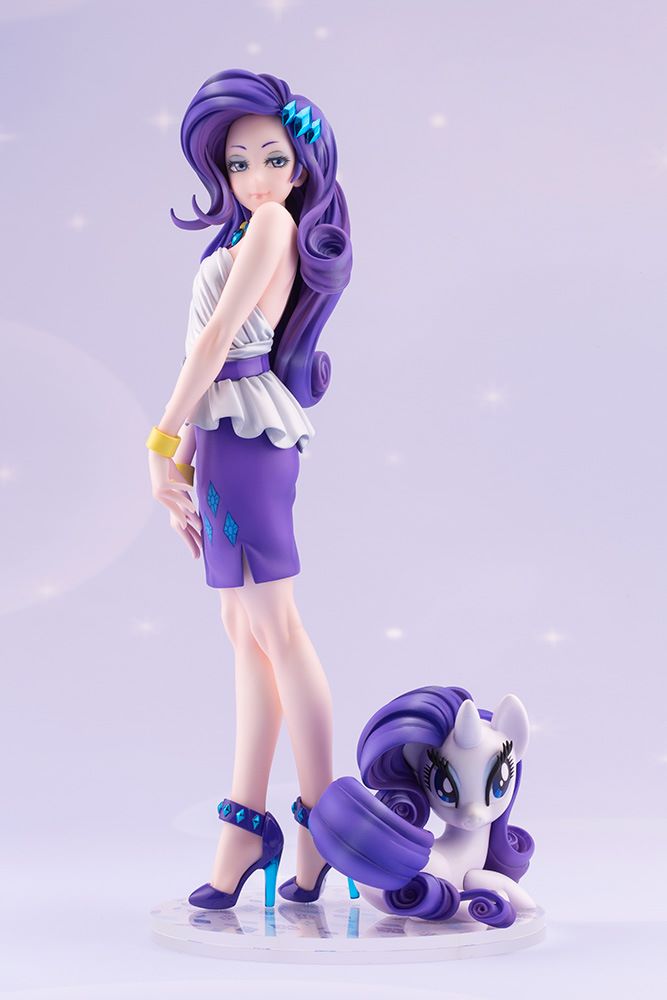 ---
The My Little Pony Rarity bishoujo statue has been made available for pre-order. Rarity is the fourth release in the My Little Pony line of bishoujo statues from Kotobukiya and Hasbro. Earlier statues in this line include Pinkie Pie, Twilight Sparkle, and Fluttershy. Future editions will feature Applejack and Rainbow Dash.
Rarity is a business-oriented character who can sometimes be melodramatic. She is always stylish and impeccably dressed. Beneath her stunning flow of purple hair are two smoky eyes peering out with an inner understanding. She peers over her slightly raised shoulder, and her light complexion is a brilliant contrast against her bright-colored hair. The top of her dress showcases many beautiful folds in the sculpting. Her purple belt wraps around the top, and it matches the skirt beneath. On her skirt are gem designs that define her character. Following her long slim legs to her shoes, more gems wrap around her shoe straps at the ankles, and she is standing on sleek high heels. Rarity stands on a clear base and is joined by her pony version, that lays next to her. The Rarity bishoujo statue stands 8.58 inches high. She is designed by Shunya Yamashita and sculpted by Nakata Takayuki and Tsubame.
Rarity will be available on 4/2020 from Kotobukiya and Hasbro.
G.I. Joe Lady Jaye Bishoujo Statue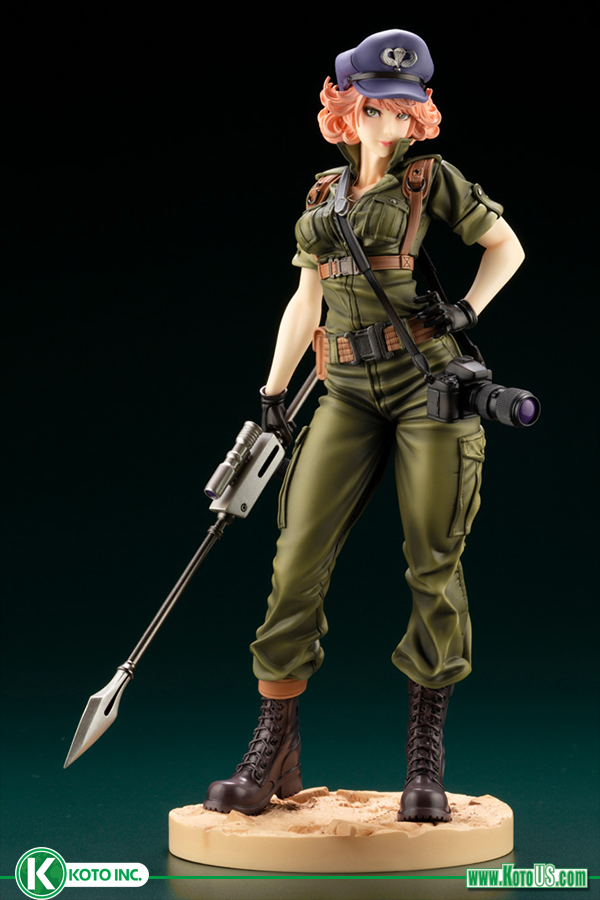 ---
The G.I. Joe Lady Jaye bishoujo statue is reporting for pre-order! Lady Jaye is the third release in the G.I. Joe line of bishoujo statues from Kotobukiya and Hasbro. Other figurines in this line include Scarlett from G.I. Joe and the Baroness from the evil Cobra organization.
Lady Jaye was created for the G.I. Joe: A Real American Hero animated series created by Sunbow and Marvel Productions. Her real name is Alison R. Hart-Burnett. She was introduced along with Flint in the Revenge of Cobra mini-series. She is a cool and collected fighter that uses specially made javelins as her weapons of choice. Lady Jaye is a highly-skilled hand-to-hand fighter and is more than proficient with a variety of firearms.
Lady Jaye's popularity in the animated series led to her action figure release by Hasbro in 1985. In the same year, she made her debut in Marvel Comics G.I. Joe: A Real American Hero comic book with issue #32. In later years, Lady Jaye would also appear in the G.I. Joe comic books published by Devil's Due and IDW. The character also appeared in live-action in the G.I. Joe: Retaliation movie (2013). She is played by actress Adrienne Palicki.
This bishoujo statue features Lady Jaye ready to take the action to Cobra. Her body language reflects that she is armed, outfitted and prepared for any upcoming conflict. Her head is tilted slightly, where her lips almost touch the top of her raised shirt collar. Her auburn hair flows from underneath the large blue military hat she wears. Lady Jaye is outfitted in a dark green combat jumpsuit with multiple pockets throughout the uniform.
Over her shirt, she wears a brown utility belt vest that secures over her shoulders. She is also fitted with another belt around her waist for storing ammunition and other devices. She also has on thick black combat boots ready to carry her into battle. One of her boots has a military blade holstered at the top. In her right hand, Lady Jaye holds her weapon of choice — a custom-made javelin that is equipped with various abilities, which she has mastered and uses expertly. Draped with a black strap over her shoulder, she wields a high-tech camera, used for spying on the various schemes Cobra devises.
The Lady Jaye bishoujo statue is scheduled for release 4/2020.
Beetlejuice Bishoujo Statue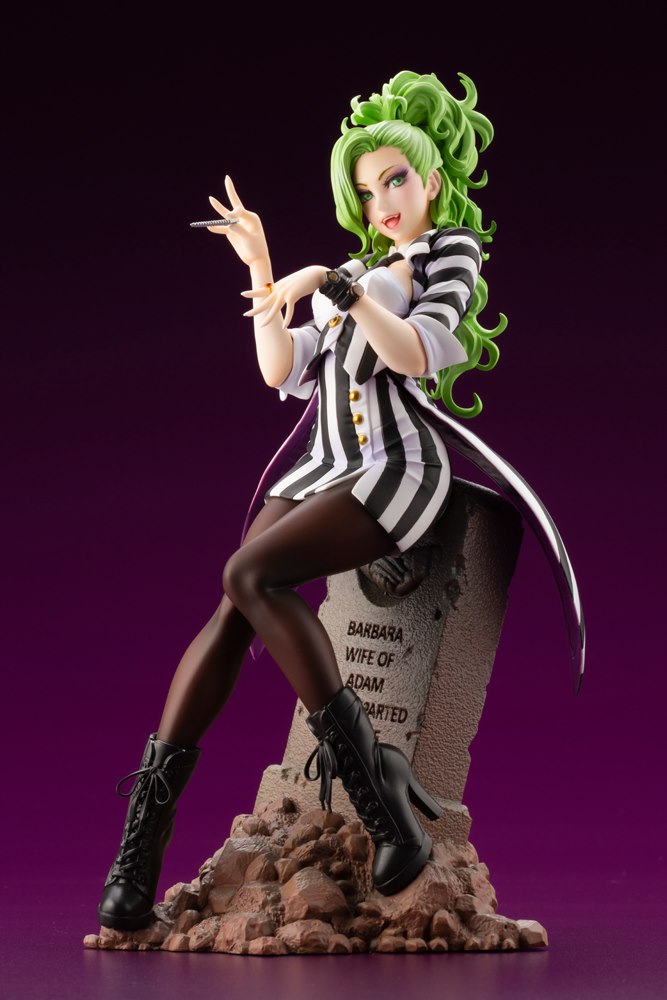 ---
The Beetlejuice bishoujo statue is now scaring up pre-orders! Beetlejuice is the latest entry in the horror-inspired line of bishoujo statues from Kotobukiya. Other statues based on horror movie icons include Freddy Krueger from A Nightmare on Elm Street, Jason Vorhees from Friday the 13th, Michael Myers from Halloween, Pinhead from Hellraiser, Ash from Evil Dead and Chucky from Child's Play.
Beetlejuice is inspired by the catalyst character of the famous 1987 movie of the same name, Beetlejuice. In the movie, Beetlejuice is played by Michael Keaton. He is trapped in a realm that he cannot get out of until someone says his name three times. Meanwhile, two mild-mannered spirits occupy a house that a living family moves into. They try unsuccessfully to scare the family away. They come upon Beetlejuice, who bargains with them to free him and in return, he will scare the family away. The spirits refuse.
The ghostly couple soon forms a bond with the daughter of the family. The daughter is not close to her parents, and when she meets the ghostly couple, she has an instant rapport with them. The girl also meets Beetlejuice, who convinces her to say his name three times. She does, and Beetlejuice is released to wreak havoc. Realizing what a mistake it was to unleash Beetlejuice, the girl and the ghostly couple work together to put Beetlejuice back into his dimensional prison.
Beetlejuice was a very well-received movie. Audiences responded to the scary humor and the slapstick antics of Keaton's inventive character. The film also helped further the careers of Winona Ryder, Geena Davis, and Alec Baldwin. It also established Tim Burton as a unique filmmaker who brought a very unconventional tone to his movies. A short time after the film thrilled audiences, a Saturday morning cartoon was made, and this led to more merchandising of the concept, leading to toys, clothes and many other items featuring the main ghostly character.
Since then, there have been many reports of a possible Beetlejuice sequel, but production has not yet materialized. However, Beetlejuice remains a jewel in the filmography of Tim Burton, and it has never left the public consciousness.
The Kotobukiya Beetlejuice statue features the character leaning against a tombstone ready to file her nails. She is smiling and ready for fun! With ethereal green flowing hair, the spooky specter is cracking a devilish smile. She is wearing the classic black and white stripes on her outfit made iconic in the movie, styled into a skirt for this bishoujo series!
The Beetlejuice bishoujo statue is now available for pre-order. It is due to be released in September 2020. This figurine will be a perfect addition to a frightful Halloween shelf, and a great piece to add to your growing Kotobukiya bishoujo horror collection.