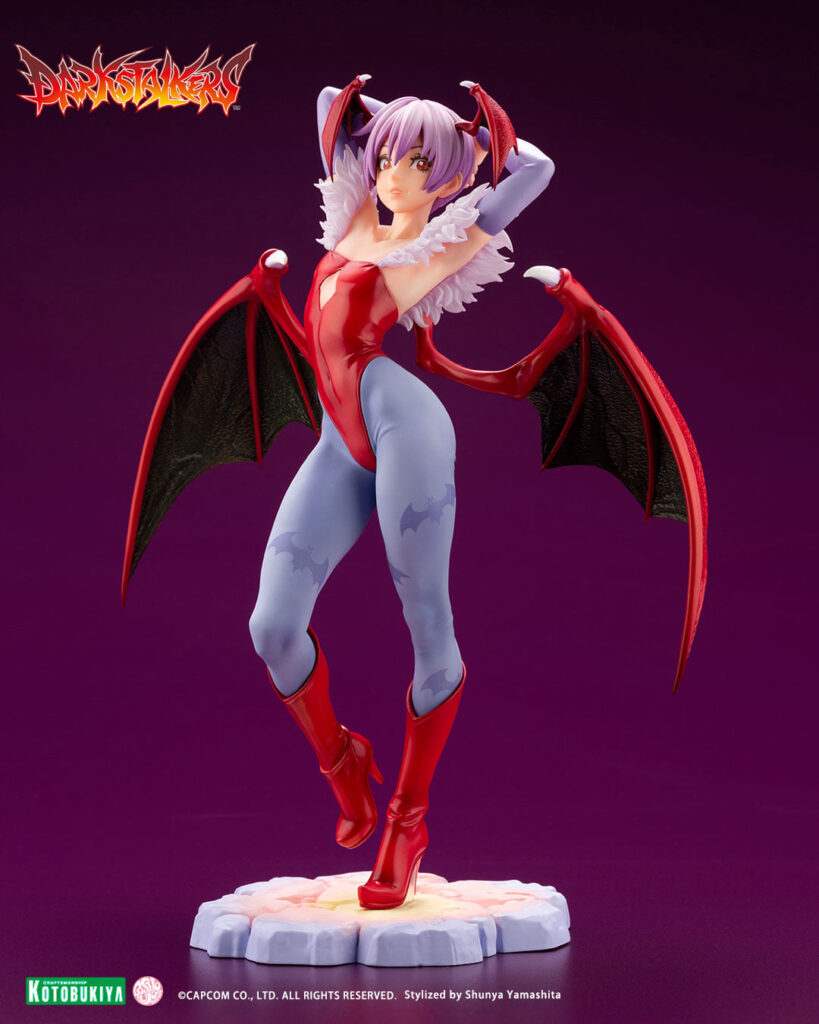 Cunning demon and succubi extraordinaire Lilith is finally available for Capcom's Darkstalkers franchise. This finely-sculpted figurine serves as a beautiful—and cornerstone—addition to any Darkstalkers collection. Pre-orders are currently being held for this core Darkstalkers character.
About Lilith
Spawned from the soul of Morrigan, this cunning and ruthless succubi is a simultaneous mixture of fetching and dangerous. The red and black inherent in her design, the focal point of which is her wings, is a testament to her thematic, bewitching personality. A dark anti-hero inspired by the Lilith of legend, she is closer to a childlike clone of Morrigan's than a demon from Hell. Despite her lithe frame and childishness, both in this video game and in canon, Lilith is a bored fighter looking for an actual challenge.
About the Darkstalkers Lilith Bishoujo Statue
The Darkstalkers Lilith statue stands poised, ready to outsmart and dominate anyone in her way, yet laid back and casually so. Her arms are folded behind her head to express the ease by which she manipulates the people around her, yet the black and flame-red wings spread from either side of her countenance tell a different story. Despite her casual demeanor, she is dangerous and has the demonic tools to handle any situation.
Her leggings and boots convey the seductive qualities of a succubus, but any Darkstalkers fan knows what Lilith is truly capable of, which is bolstered by her connections to Morrigan. Her horns, almost like claws, rise above her head as if antennae from some Satanic radio station. She is elegantly beautiful, and the confusing protagonist fans have come to love.
This excellent statue sculpt with its breathtaking detail is without question a necessary inclusion to any Darkstalkers collection. Both the main character and a celebration of her fine form, this bishoujo statue was designed by Shunya Yamashita and sculpted by the talented veteran figurine artist Tsubame.
Release Date: January 2023
Entertainment Earth links are affiliate links. Thank you for your support!
Related Bishoujo Statues