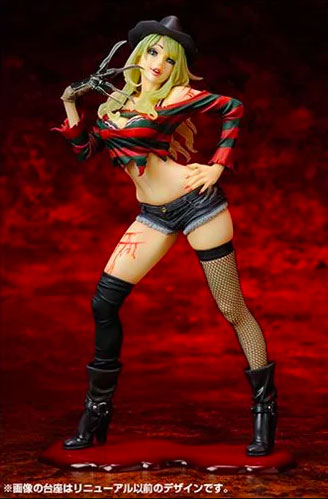 Freddy Krueger Bishoujo Statue
The bishoujo version of the horror star, Freddy Krueger is here, and she's ready to invade your dreams! Based on the character that made his debut in A Nightmare on Elm Street (1984), this statue represents a new look at the shadow in your nightmares. Dressed in a very different outfit than the inspiration that spawned her, this beautiful scream queen sports the same iconic sweater and hat, along with the terrifying clawed gloves that kept an entire generation awake at night.
Designed by Shunya Yamashita and sculpted by Takaboku Busujima (Busujimax), this Freddy Krueger bishoujo statue stands just over 7 inches tall.
Bring a little fright to your bishoujo collection with Freddy Krueger today!
Release Date: September 2014
Freddy Krueger Bishoujo Statue Photo Gallery
Related Bishoujo Statues