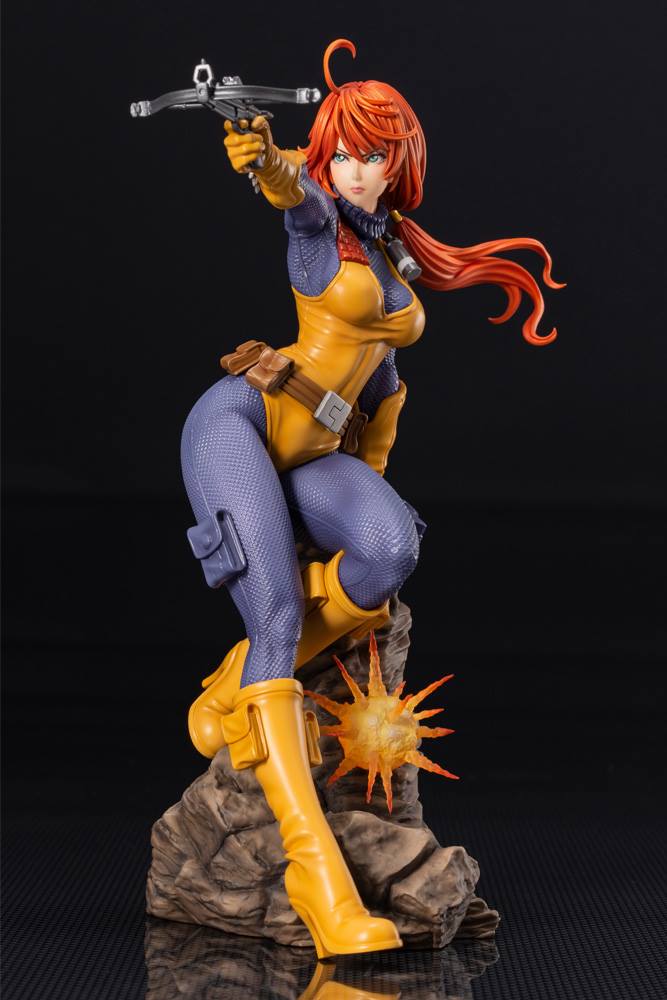 G.I. Joe Scarlett Bishoujo Statue
Specializing in counter-intelligence, Scarlett is a powerful character in the G.I. Joe Team. She is an elite soldier that was created by Hasbro Enterprises. Scarlett protects her team and country from plans hatched by the enemy. She is part of a team that fights against the advances of Cobra, an evil organization that wants to subdue the world. She is a martial arts expert with the capability to use a wide range of weapons. Her suit is designed and adapted such that it can hold all updated, high-tech equipment used by the G.I. Joe soldiers. She comes armed with an XK-1 power crossbow. Scarlett is a force to reckon with in the team. The Scarlett bishoujo statue is expertly crafted. It is digitally sculpted such that the smallest details are observed. Her red hair is dramatically textured and easily visible. Her two-piece bodysuit is also presented with amazing attention to the texture. The seams are visible and add a 3 Dimensional appearance to the statue. She wears a two-piece bodysuit. It is sculpted in metallic blue and golden yellow colors. These colors match up
beautifully on her body.
Scarlett also wears a multifunctional brown belt. It has a number of pockets along its sides and back. They provide extra space for holding ammunition and spy gadgets. Her belt is fastened using a silver clasp buckle at the front. The suit features side pockets on the hip and on her boots. Scarlett also wears golden yellow gloves and her top is scrunched up at the neckline. This protects her neck from enemy attacks. Her long red hair is held together using a metallic blue band. A closer look at her bodysuit reveals that it is textured to improve grip and aerodynamics. She leans on a rock with her arm outstretched and ready to fire her crossbow!
The Scarlett G.I. Joe statue is based on original art by Shunya Yamashita. The artwork was drawn as a special concept for this bishoujo statue! Scarlett is sculpted using 3D printing. This digital method of sculpture preserves every detail of her appearance. The sculptor is Takaboku Busujima. Also known as busujimax, he preserves her appearance and beauty with precise accuracy. As a result, Scarlett is rendered perfectly as bishoujo for Kotobukiya.
Release Date: August 2019
G.I. Joe Scarlett Bishoujo Statue Photo Gallery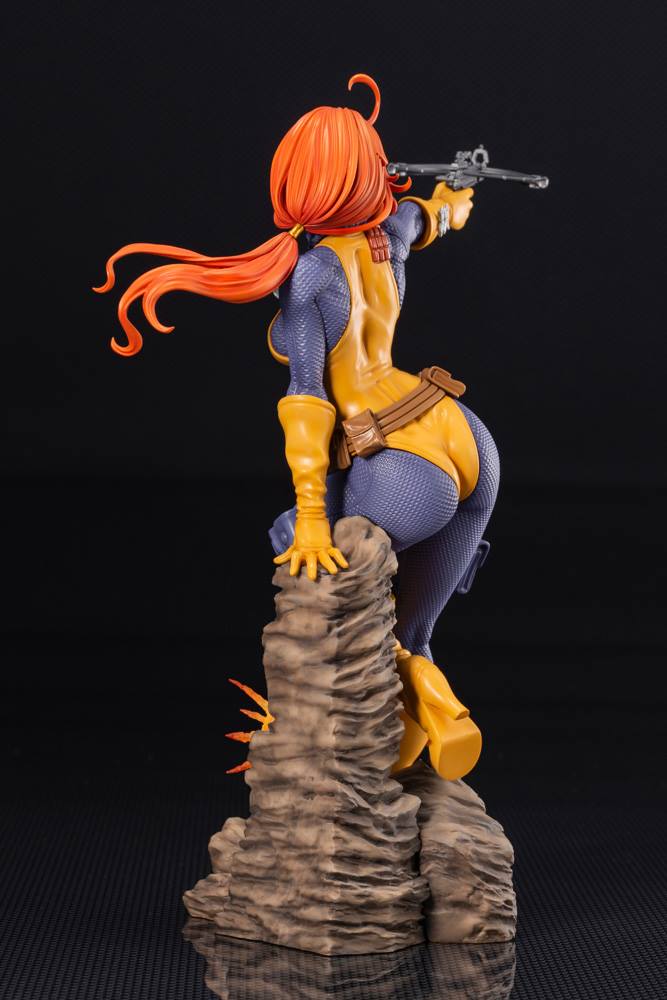 ---
Related Bishoujo Statues