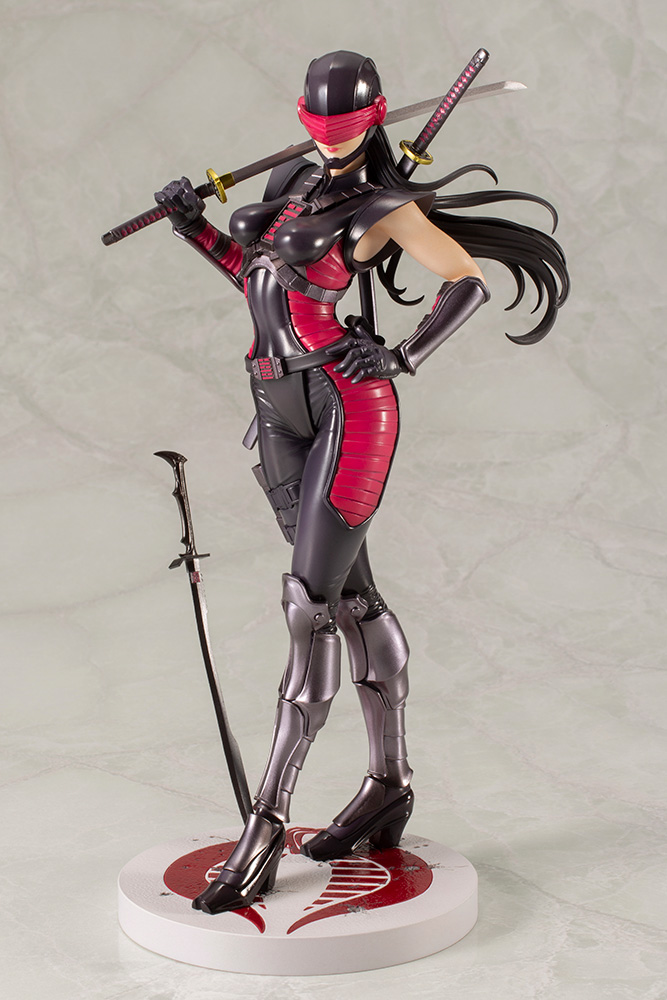 Kotobukiya presents the latest entry in their G.I. Joe line of bishoujo statues – Dawn Moreno, also known as Snake Eyes II!
One of the most figures of G.I. Joe's canon, Snake Eyes II was known as Dawn Moreno. She grew up in the shadow of the world terrorism group Cobra, where she developed the skills of a ninja. The Cobra Commander noticed Dawn's intense physical abilities when she took down an entire sports team by herself. First appearing in G.I. Joe #226 (2017), she eventually transformed into the female ninja Snake Eyes during the "Dawn of the Arashikage" storyline. She later went on to be featured in the G.I. Joe "Silent Option" miniseries (2018) from IDW Publishing.
The Dawn Moreno Snake Eyes figurine perfectly portrays the combatant's sleekness and skill. This artistically crafted statue portrays Snake Eyes in her sleek black and fuchsia-colored outfit. She comes equipped with her deadly swords prepared to attack! The statue also showcases her sexy heels and luscious ponytail peeking from around her famous helmet.
The Snake Eyes Dawn Moreno statue is now available for pre-order, This is the newest addition to the G.I. Joe Team, which includes Scarlett, Baroness, and Lady Jaye. Collect them all and display them mission-ready on your shelf today!