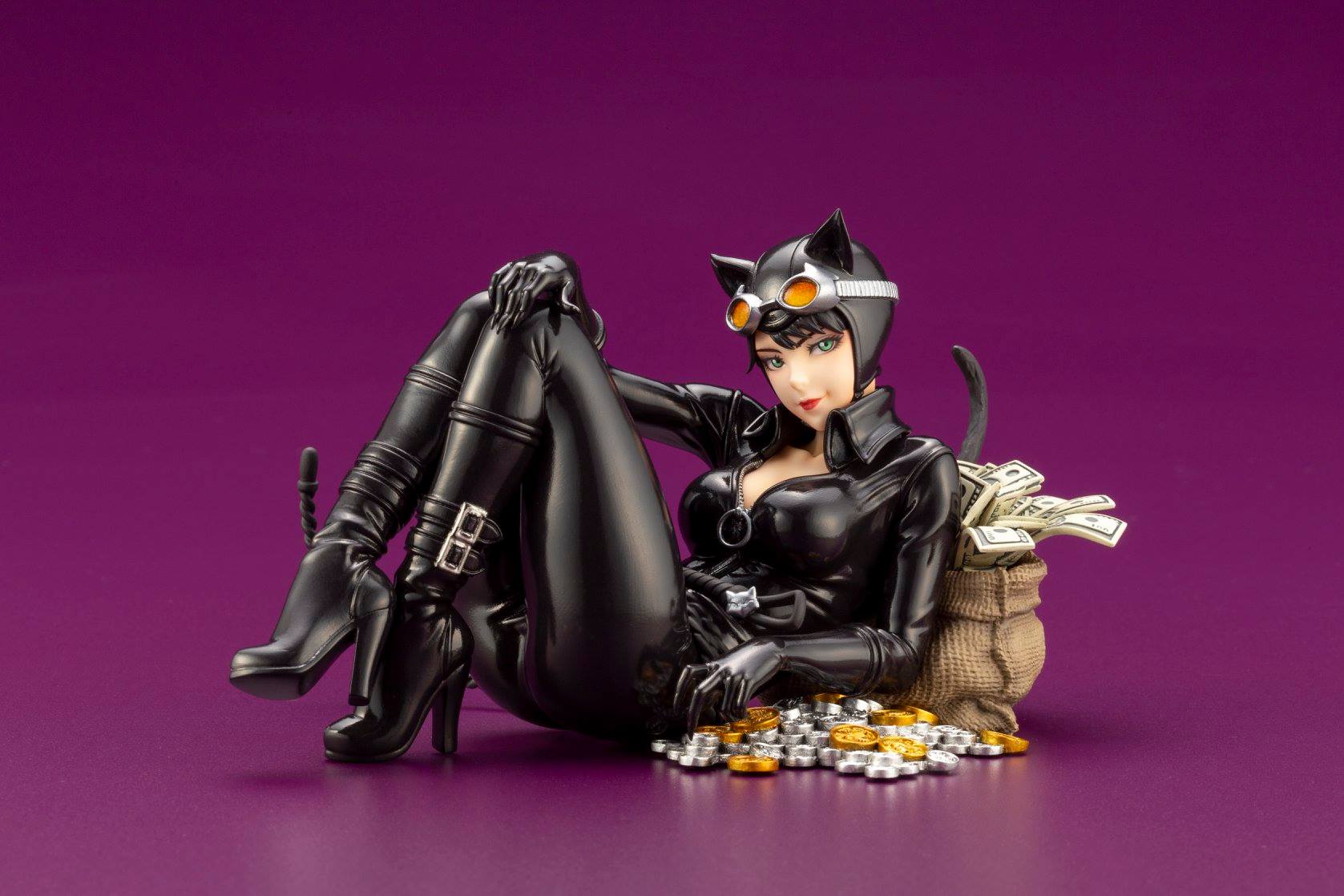 The Felonious Feline is back!
Catwoman Returns to the bishoujo line of statues from DC Comics and Kotobukiya. This is the second figurine of the felonious feline produced for the bishoujo series. The previous version, which was produced as one of the DC-inspired character statues by Kotobukiya for this line, was very popular with fans. Now the Kotobukiya creators bring us this new dynamic version of Batman's femme fatale. Other related statues in the Batman family of characters include Batgirl, Batwoman, Huntress, Harley Quinn, and Poison Ivy.
Catwoman is Selina Kyle. Her origin in comic books has been retold in different ways over the years. The latest version of her beginnings has Selina growing up in poverty, using her streetwise knowledge to survive. She gets involved in cat burglary and discovers she is very skilled at this endeavor. She adopts the alias of Catwoman and begins pulling off larger heists, eventually bringing her activity to the attention of Batman. The two costumed adversaries have many confrontations, and soon there is a hint of flirtation in their encounters. Catwoman becomes an occasional ally to Batman but still looks for opportunities to put her burglary skills to the test.
This statue from DC Comics and Kotobukiya is a beautiful new version of this classic character. Catwoman has triumphantly pulled off another job, relaxing against the spoils of her efforts. She is wearing her black leather outfit, with her goggles pushed ups so her full face can be seen. Her hand rests upward on her knee, while her other leg crisscrosses the other slightly. Each boot is clasped by silver buckles and ends in a long high heel. Catwoman's left-hand claws playfully at the coins on the floor, as her back rests against the burlap sack of green cash she has liberated from its keepers. One of her pet cats is investigating the haul, as its tail can be seen protruding from the bag. Around Catwoman's waist is her whip, wrapped tightly around her, its handle sporting a silver cat insignia. This figurine exudes the attitude of Catwoman and brings a unique horizontal presentation to the DC Comics line of bishoujo characters.
This statue is designed by Shunya Yamashita and is 3.35 inches high. It is 1/7 scale and made of PVC-ABS material.
Available August 2019.
Ebay and Amazon links are affiliate links. Thank you for your support!
Catwoman Returns Bishoujo Image Gallery
Related Bishoujo Statues