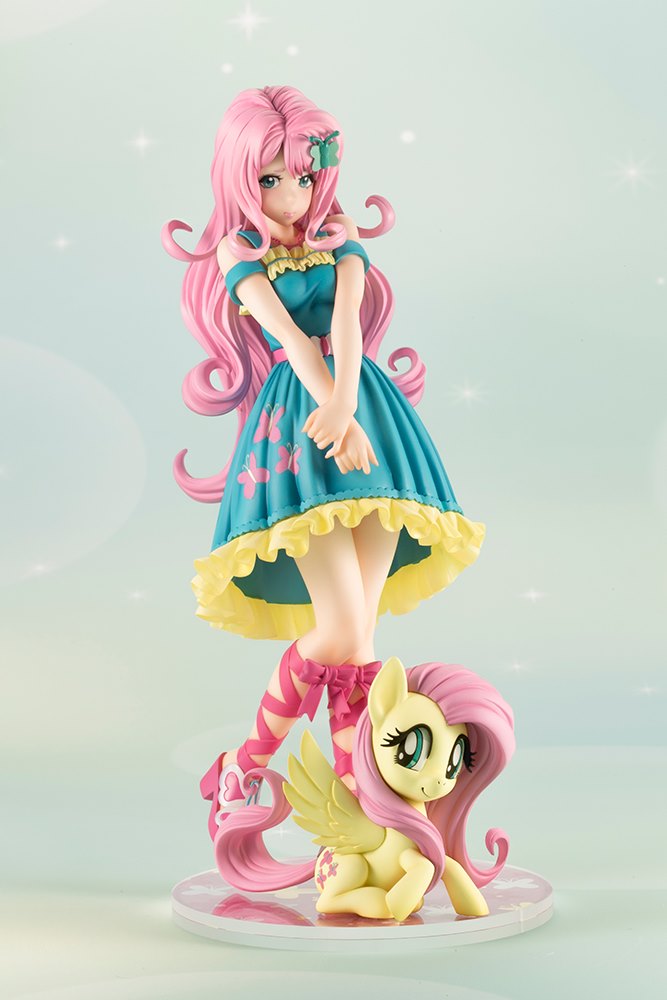 Presenting Fluttershy
The Fluttershy bishoujo statue is the third release in the My Little Pony series from Kotobukiya and Hasbro. Fluttershy follows Pinkie Pie and Twilight Sparkle in this colorful set of figurines. These bright creations are inspired by the classic toyline and the My Little Pony Equestria Girls versions of the popular characters.
Fluttershy is a soft-spoken and kind member of the My Little Pony characters. She loves plants and animals, sharing her gentle nature with all living things!
About the Fluttershy Bishoujo Statue
The statue features Fluttershy exhibiting her shyness. Her pose displays a gentle attitude while also radiating inner beauty. Fluttershy's pink hair captures the eye as it spills over her shoulders and back. A green butterfly clings to her hair just beside her face. Fluttershy's eyes are wide and open to communication.
Her shoulders are lifted in a protective, introverted manner, framing her gentle expression. Fluttershy is wearing a teal-colored dress that has two wide straps over her shoulders. There is yellow ribbon trim just below the neck of the dress. She is wearing a hot pink belt that matches her flowing hair perfectly.
The skirt of Fluttershy's dress has a curtain ruffle flow, and it includes a yellow fluffy trim at the bottom. As a design on the skirt are three butterflies, which are her special insignia, and echo the butterfly design in her hair. Over her calves are pink wrappings that carry attention down to her shoes. These are pink platform footwear with thick heels.
At Fluttershy's feet is her pony incarnation, who is also happy and bashful at the same time, with a pale yellow body and a thick pink mane flowing over wide exuberant eyes. They stand on a clear platform together.
The My Little Pony Fluttershy bishoujo statue stands 8.6 inches high and is made of PVC (Phthalate-free). It is designed by Shunya Yamashita and sculpted by Seki Yudai and Koei Matsumoto.
Following Fluttershy in the My Little Pony bishoujo series will be Rarity, Rainbow Dash and Applejack.

Available December 2019.
My Little Pony Fluttershy Bishoujo Statue Image Gallery
Related Bishoujo Statues