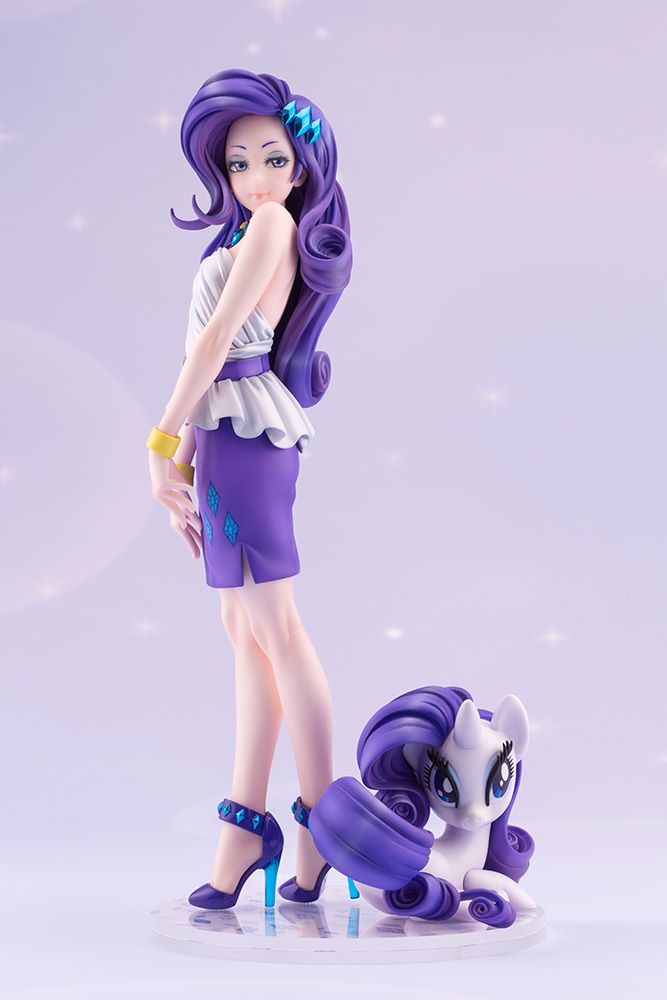 About the My Little Pony Rarity Bishoujo Statue
The My Little Pony Bishoujo lineup continues with a new addition! Joining previous statues of Pinkie Pie, Twilight Sparkle, and Fluttershy comes to the fourth pony with style, charm, and generosity. Introducing, Rarity!
Rarity is a sophisticated unicorn. As a fashion designer and seamstress of Carousel Boutique she is business-oriented and a perfectionist, but that is not to say she is cold-hearted or vain. In fact, Rarity is far from it! Even though Rarity might enjoy being at the center of attention and be a little melodramatic at times, she also represents the element of generosity and is never afraid to lend a hoof to a friend in need, even if it means sacrificing something she cares about. All of these traits can be seen represented in her statue as her personality shines through in this loving rendering and just like Spike, you'll be crushing on Rarity as soon as you see her.
Everything about this Rarity statue is wonderfully put together and her rendering shows careful attention to detail by illustrators and sculptors alike. Her sense of style is impeccable and well-maintained with flowing, wavy hair highlighted by a gradient that seems to gleam in the light. Her eyelashes are thick and voluminous shadowing smoky eyes and a gentle smile. Rarity's shoulderless white top is carefully modeled so that each fold in the fabric looks realistically soft and rippling, all held together by a modest purple belt with a double crescent moon design on the buckle. The purple belt and hair are matched by her skirt, sporting a gem design on the flank that truly embodies her character. In fact, gems adorn all parts of Rarity's outfit, from her shining hairpiece to her gold necklace, all the way down to the straps on her clear heels, emphasizing her long, slender legs that cross where she stands. Her wrists sport gold bands as well, while her hands lay demurely hovering by her skirt. She looks over her raised shoulder, creating a breathtaking contrast between her soft, light complexion and her vibrant hair.
Rarity comes on a clear base with a gemstone design underneath, and the bishoujo statue shares her platform with a smaller statue of her original pony version. The pony Rarity part of the statue is depicted in a pearlescent color with the same luxurious mane, voluminous lashes, and signature cutie mark that fans love. The pony version is found lying at the feet of her bishoujo version, peering over her shoulder with her legs crossed so that both are sporting the matching smile and pose.
Expand your My Little Pony statue collection and bring Rarity home where she belongs!
The My Little Pony Rarity Bishoujo Statue is a 1/7 scale figure designed by series illustrator Shunya Yamashita, sculpted by Nakata Takayuki and Tsubame, and licensed by Hasbro and presented by Kotobukiya. She is available as of July 2020. Keep an eye out for more ponies in the My Little Pony Bishoujo lineup, including additions of Applejack, Rainbow Dash, Princess Celestia, and more.
Release Date: April 2020
---
My Little Pony Rarity Bishoujo Statue Image Gallery
---
Related Statues