Kotobukiya has released artwork for new bishoujo statues to be released in the second half of 2019 and also during 2020.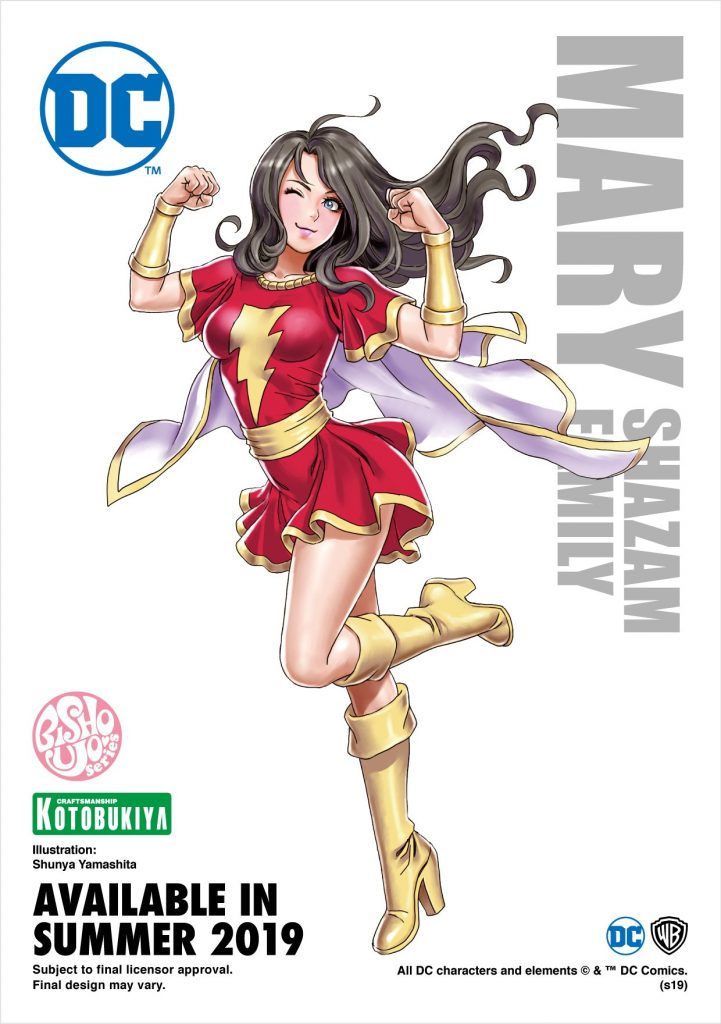 Mary Shazam Family Bishoujo Statue
With the exceptions of Wonder Woman and Catwoman, Mary is the oldest character produced for the Kotobukiya bishoujo line of statues. She was first published in 1944, as part of Captain Marvel magazine. The hero known as Captain Marvel would eventually become known as Shazam, due to a lapse in publication and Marvel obtaining the copyright. Mary is the sister of Shazam, and part of what was once known as the Marvel Family. Under the new Shazam title, she now belongs to the Shazam family, and instead of being named Mary Marvel, she is simply Mary. During the height of her publication in the 40s, she was the most popular female character among readers, even eclipsing Wonder Woman. After the publishing company, Fawcett Publishing, closed, DC Comics purchased the rights to characters. However, Mary's story appearances have been limited, and she has never been able to reclaim her former glory with readers.
Since the release of the new Shazam! movie, the Shazam! Family is in public awareness once again, which makes it the perfect time to release the Mary bishoujo statue! The vibrant pose illustrated by Shunya Yamashita beautifully demonstrates Mary's happy and bouncy demeanor, The red and yellow colors of her costume add even more splash to her dynamic energy of the concept. Mary is a welcome addition to the DC Comics segment of the bishoujo line, which, along with the new Catwoman Returns statue, is having a spectacular year!
Mary of the Shazam Family is scheduled for release Summer of 2019, perhaps making its debut at the San Diego Comic Con!

---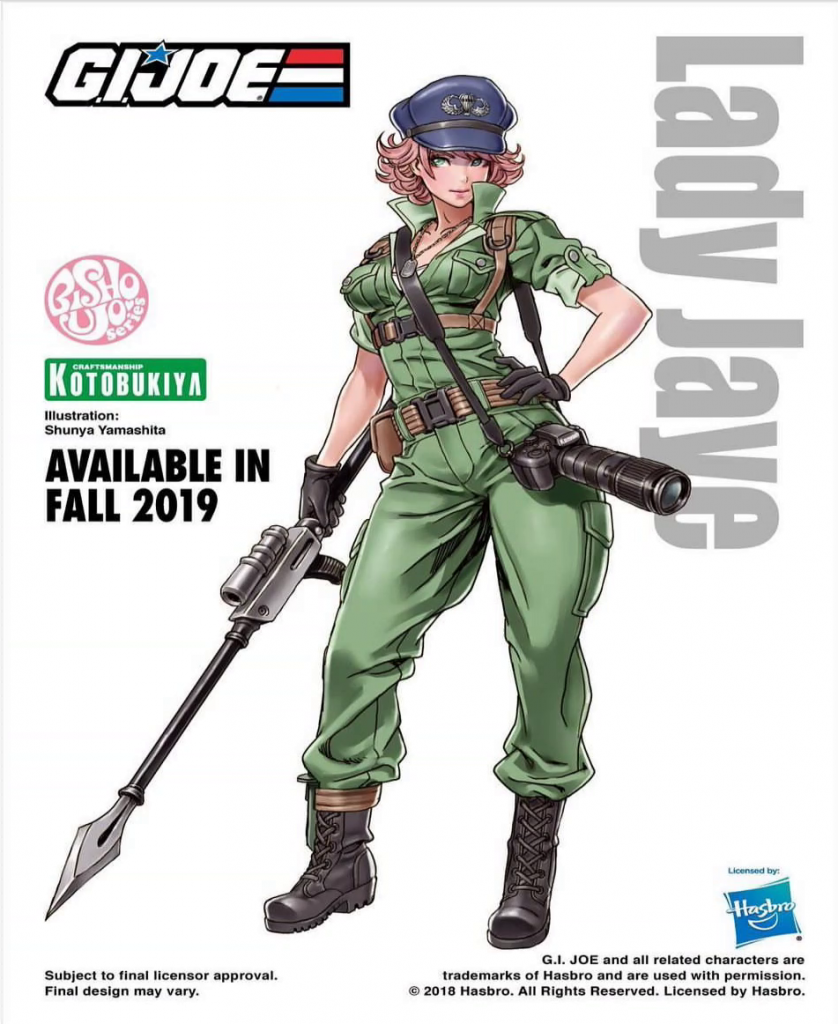 G.I. Joe Lady Jaye Bishoujo Statue
Lady Jaye is the second G.I.Joe charter to be adapted as a bishoujo statue. Like the character Scarlett, Lady Jaye is a soldier with G.I.Joe – an elite counter-terrorism team. G.I. Joe protects the world against many threats, most notably the terrorist organization Cobra.
She first appeared in the G.I.Joe animated series, in a miniseries titled G.I.Joe: The Revenge of Cobra. She is a highly-skilled, highly-intelligent soldier who holds the rank of Staff Sergeant. Lady Jaye also has acting and impersonation skills. In the animated series, she uses an assortment of javelins as weapons. It is sometime later she is introduced in the G.I. Joe comic books, along with Flint – the warrant officer. Their relationship would evolve into a romantic one. Lady Jaye is also in the G.I. Joe: Retailion movie played by Adrianne Palicki.
The Shunya Yamashita design for this statue gives us the classic look for Lady Jaye and is full of detail and attitude. In this bishoujo statue, Lady Jaye wears her green jumpsuit fatigues, as well as her large blue military cap. She carries her signature weapon, a power javeilin spear gun. Around her neck is a photo lens survelliance camera. Her gloved hand rests on her hip in a pose that exudes confidence and readiness. This statue will be another great step in the G.I Joe A Real American Hero figurines Kotobuikiya is producing based on the classic toyline.
The Lady Jaye bishoujo statue is scheduled to be available during the of fall of 2019.

---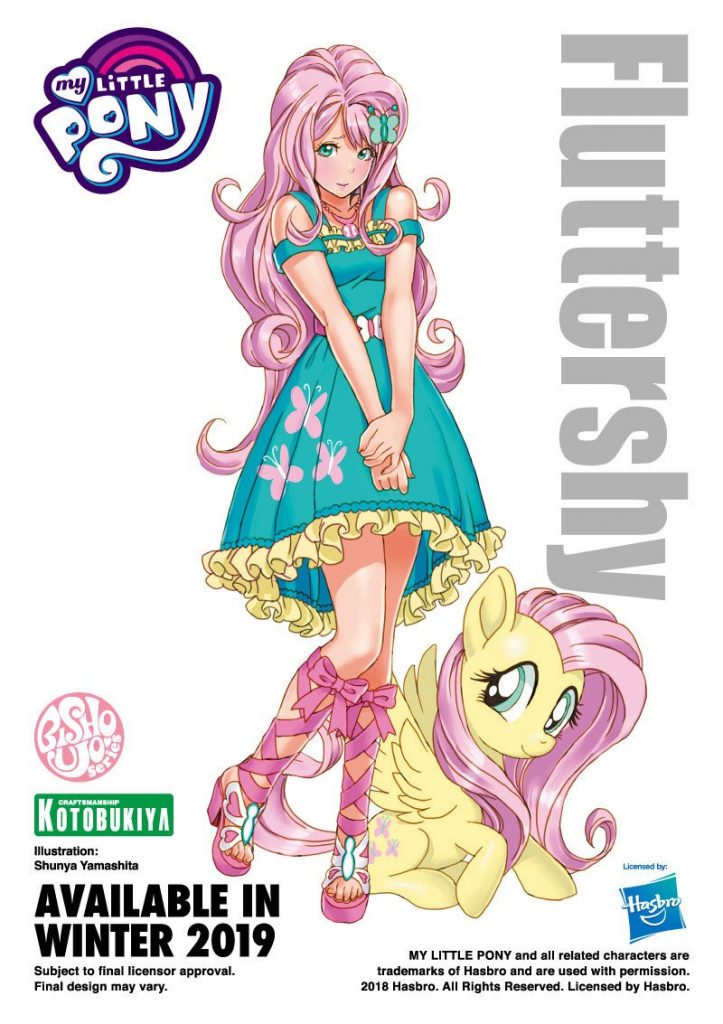 My Little Pony Fluttershy Bishoujo Statue
Fluttershy will be the third statue released under the bishoujo My Little Pony line. She is a character on the My Little Pony: Friendship is Magic TV series, as well as the My Little Pony: Equestria Girls television specials and animated short features. It is from the Equestria Girls version of the character from which the bishoujo statue will take its inspiration.
Fluttershy is bashful and timid, and sometimes it is difficult to hear her speak. She has a strong connection to animals. As a student at Canterlot High School, she is a volunteer in the animal rescue program. She is very kind but her friends are always pushing her to be more assertive. Through encouragement, Fluttershy learns new ways to make her presence known. She is also a tambourine player for her band, the Rainbooms.
The bishoujo version of Fluttershy adapts the character traits of the pony beautifully. The human character has the same pink hair as Fluttershy's pony mane. Her body language conveys the shyness the character has always displayed while imbuing a sweetness and friendliness true to Fluttershy. As a wonderful contrast to her hair, Fluttershy wears a teal dress which is trimmed in a lovely yellow. Pink butterflies are imprinted on the skirt. There are highly-detailed ribbons that wrap around her calves, leading down to butterfly-decorated shoes. At bishoujo Fluttershy's side is her classic pony incarnation, ever-shy as she peeks forward at everyone watching.
The My Little Pony Fluttershy bishoujo statue is scheduled for release in the Winter of 2019.
---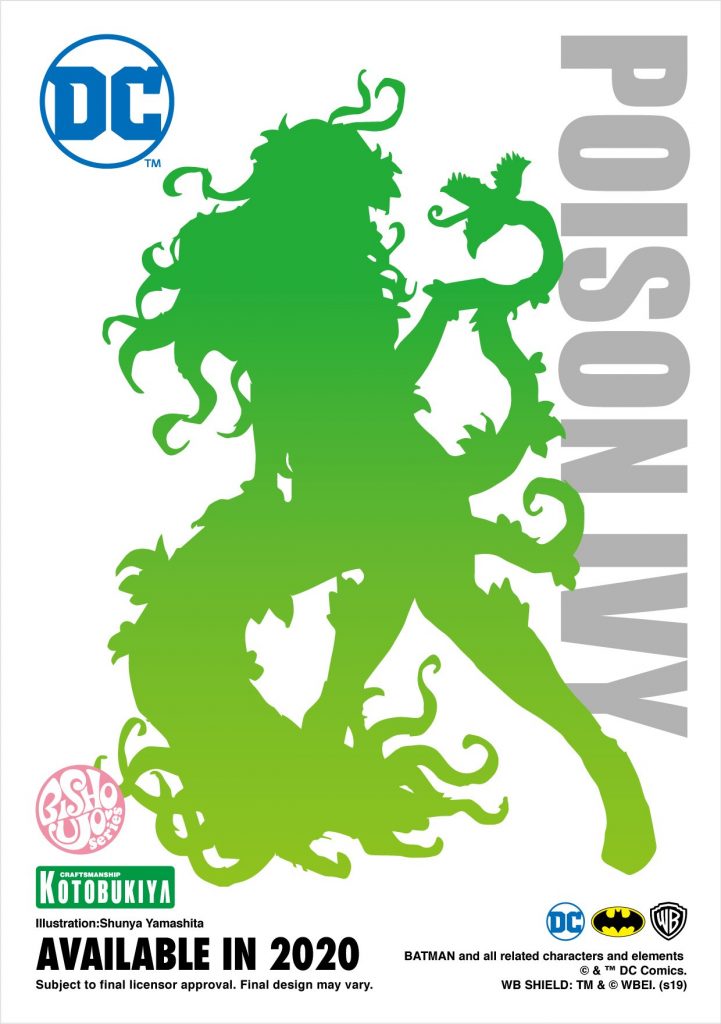 Poison Ivy Version 2 Bishoujo Statue
There will be a second bishoujo statue version of DC Comics' Poison Ivy. The first version of Batman's floral femme fatale proved very popular and is among one of the most sought after statues. This new version will join Wonder Woman, Supergirl, Harley Quinn and Catwoman as DC bishoujo statues that were given a second sculpted version.
Pamela Isley, also known to the world as Poison Ivy, was first introduced in Batman #181 in 1966. In the past three decades, Poison Ivy has grown to become one of Batman's most popular villains. Her character came to new prominence when she appeared in Batman the Animated Series, then went on to appear in the Batman and Robin movie played by Uma Thurman. She has been in major Batman comic book storylines, and of course, there is her on-again-off-again partnership with Harley Quinn. Some of Poison Ivy's most notable comic book storylines include Poison Ivy: Cycle of Life and Death, Batman Arkham: Poison Ivy, and Batman: Harley and Ivy. She continues to stand as one of Batman's major foes in his rogues' gallery and her merchandise continues to be highly collectible.
There is no full preview yet of the design illustration, but by the silhouette, it is clear that her plant friends are included with her in the concept. Poison Ivy seems to be resting on the large living vine. It's always exciting to see what the talent of Shunya Yamashita designs for the sculptors. The statue will be available at some point in 2020.
---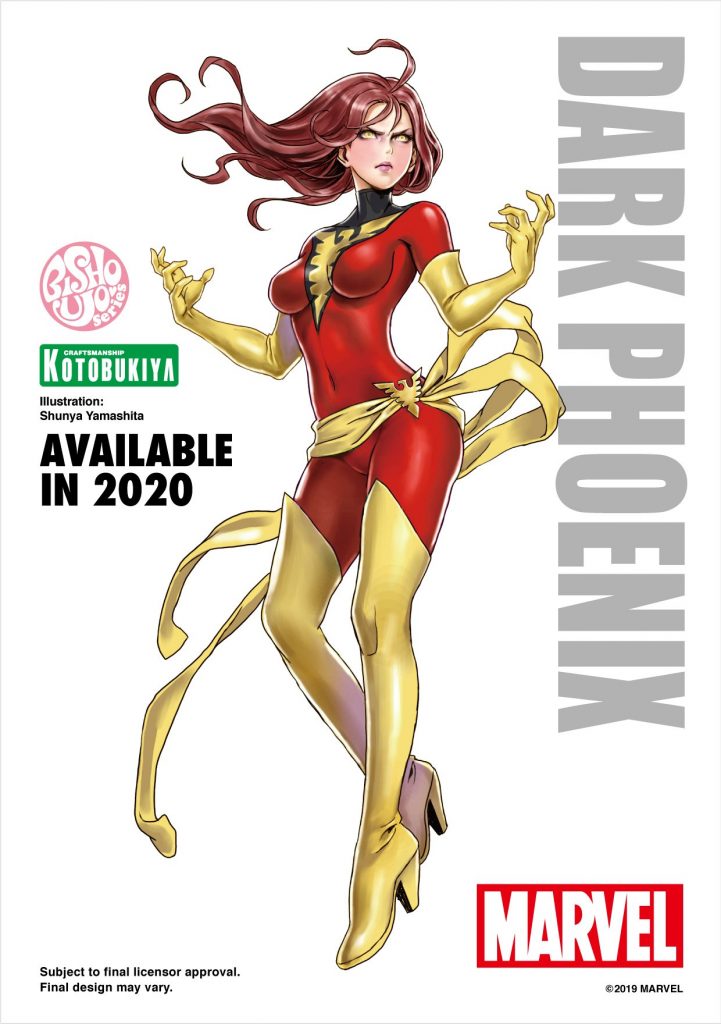 Dark Phoenix Version 2 Bishoujo Statue
A second version of the Dark Phoenix bishoujo statue will be available in 2020. The first Dark Phoenix bishoujo statue from Kotobukiya was actually a color variant of the Phoenix statue. There was also a third color variant of this original statue that was white, which had a limited exclusive for the 2010 San Diego Comic Con.
The Dark Phoenix is an incarnation of Jean Grey of the X-Men. Originally known as Marvel Girl as part of the first group of X-Men (which included Cyclops, Angel, Beast, and Iceman), Jean changed her codename to Phoenix after rejoining the X-Men after the team changed membership. This new group consisted of Storm, Nightcrawler, Cyclops, Colossus, Banshee, and Wolverine. Jean's developing telekinetic and telepathic abilities made her extremely powerful, and she was secretly inhabited by a cosmic force which came to be known as the Dark Phoenix. Consumed by Dark Phoenix, Jean brought destruction throughout the galaxy, most notably destroying an entire planet. Eventually, the X-Men were able to dispel the Dark Phoenix force from Jean, but the damage had been done. This led to an intergalactic trial performed by the alien Shi'ar, which led to self-sacrifice by Jean Grey which is told in the classic comic book storyline The Dark Phoenix Saga. This story has been adapted for the movies twice as X-Men: The Last Stand and Dark Phoenix.
The illustration for the statue concept shows Dark Phoenix hovering in the air. She is tense and focused, her hands curled up as she is seemingly about to harness her power in order to attack. Her belt and hair blow in the slight breeze of the cosmic energy building around her. Her brow is furrowed, staring intently at the oncoming heroes with blazing evil intentions.
---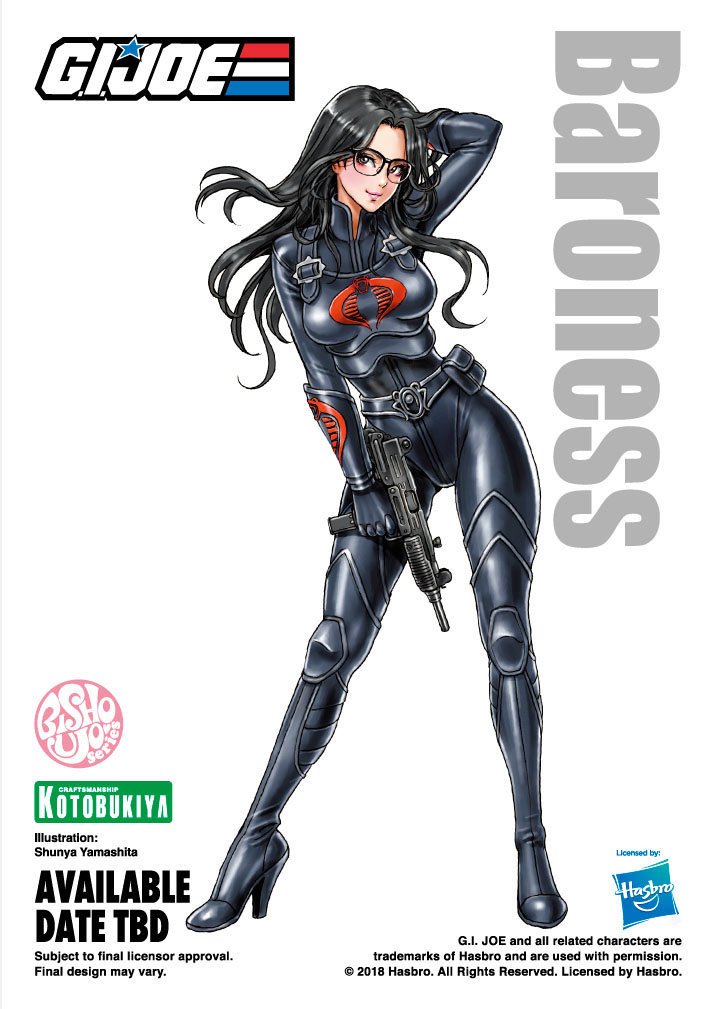 G.I.Joe Baroness Bishoujo Statue
The G.I.Joe Baroness bishoujo statue will be the third entry in the classic Hasbro toyline figurine adaptations. The first two statues, Scarlett and Lady Jaye, were both characters that fought for good on the G.I. Joe team, but the Baroness is an agent for Cobra – the international terrorist organization that threatens the world.
The Baroness is the daughter of wealthy European aristocrats. She had a growing radical mentality, which led to her joining fringe groups and eventually becoming a member of Cobra. She is the organization's intelligence officer as well as chief advisor and lieutenant to the group's evil overlord, Cobra Commander. She is also romantically linked to another of Cobra's higher authorities, the steel-masked menace Destro, whose true identity is a secret known to the Baroness. She first appeared in G.I. Joe #1 by Marvel Comics, and then also appeared in the animated series as well as the popular toys. The Baroness has always been a vocal figurehead of Cobra and is always scheming to defeat G.I. Joe at all turns.
The bishoujo concept by Shunya Yamashita seems to show us a softer side of the Baroness. She is relaxed, taking a moment to lower her weapons. She is adorned in her classic black leather Cobra outfit, with the Cobra insignia emblazoned across her chest and wrist bands. Her head is bent down slightly, and beneath her black-framed eyeglasses, there is a look of kindness pooling in her eyes. She even gives a friendly smile – or is this all a ruse?
The release date of the G.I. Joe Baroness bishoujo statue is yet to be determined.

---
Look for more details about all of these upcoming bishoujo statues coming soon here at bishoujostatues.com
---
Check Out This Article
Featured Pages